It's our goal to make high quality clothing without expiration date, that can be (re-)used time after time.
We are damn proud that we only use premium 100% organic GOTS-certified cotton. Our fabrics are carefully selected based on GOTS requirements, as well as their weight, structure and quality. 100% cotton means it's completely biodegradable and ready for circularity.
Organic cotton is softer and of a higher quality than 'normal' cotton, since it is uneffected by toxic pesticides and other chemicals.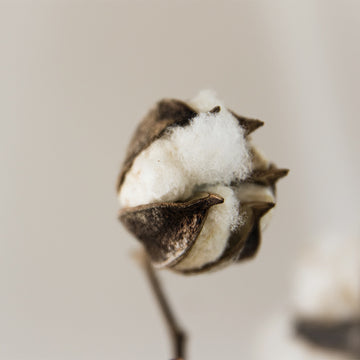 WHY COTTON ONLY?
Cotton is a qualitative natural product known for its strength and longevity.
We choose to ouse organic cotton(GOTS-certified) only. This way we can assure that no toxic or polluting pesticides are used during growth and harvesting of the cotton. And since we aren't using blends with elastane or polyester, we keep our ocean safe from micro-plastics.
Although new textile innovations are following each other up rapidly. Organic cotton(GOTS-certified) is still the most sustainable choice in fashion. Until there's a proven alternative we'll stick to organic cotton(GOTS-certified).
Be aware: organic cotton is often used for greenwashing. Because the steps after harvesting are often anything but sustainable. Such as dying with toxic and polluting chemicals and excessive use of water and energy.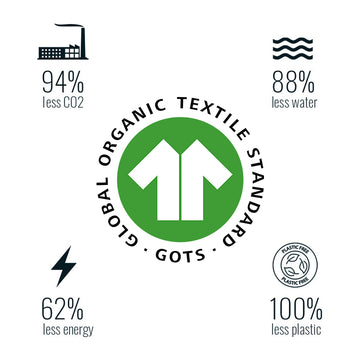 GOTS-CERTIFIED
All our products are GOTS-certified(Global Organic Textile Standard), something we're extremely proud of. It's by no means easy, but to us there's no other way.
It's the highest and most complete certificate for textiles. Not only for growing and harvesting but for the entire supply chain. From planting the seed to manufacturing, from non-toxic dying to delivery in store.
It covers the two main issues of the fashion industry; sustainability & social responsibility. GOTS's high standards are not only applicable for production, it also takes care of underexposed ethic part of the fashion industry. The entire supply chain is audited by independent certifiers, who only award certificates if each step meets the highest standards for sustainability. The certification process is transparent, and certificate holders can be found in the GOTS public database.
Savings GOTS-certified organic cotton vs conventional cotton.